We have prepared an Indian Thali with summer recipes from Nandita Iyer's The Great Indian Thali. Try yours and share your thalis with us!
Appetizers, Drinks, Condiments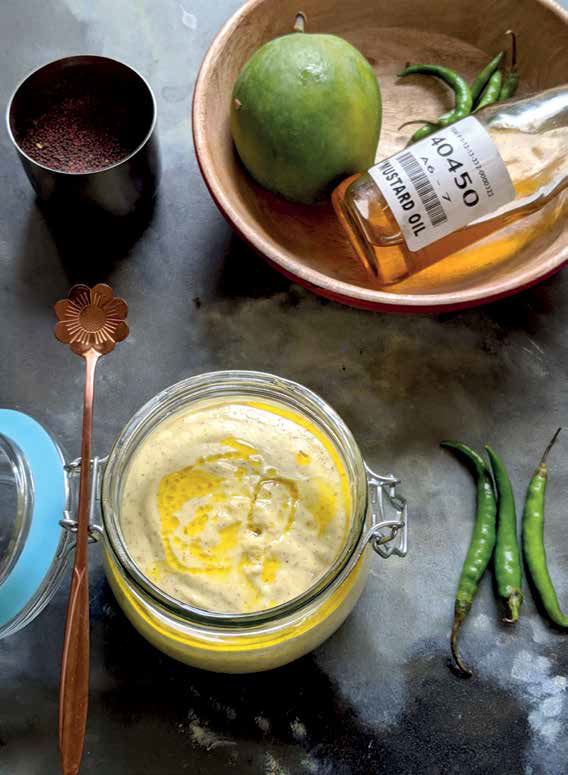 Aam Kashundi
Green Mango and Mustard Sauce
Prep time: 1-2 hours; Time taken: 10 minutes;
Fermenting time (optional): 2 days | Makes over 1 cup
This quintessential Bengali condiment with its golden yellow colour and the right balance of sweet, sour, heat, and pungency is sure to shine in any thali. It makes the salivary juices going, while also complementing almost every item on the plate. It does go best with Kolkata style street food like kathi rolls.

Ingredients
1 tbsp black mustard seeds
1 tbsp yellow mustard seeds
1 medium sized (200 g) raw mango
(1 cup, chopped)
4 green chillies, sliced
1 tbsp sugar
1 tsp salt
2 tbsp mustard oil
Method
Soak the black and yellow mustard seeds in half a cup of water for 1-2 hours.
Peel and chop the raw mango into small pieces, scraping off all the flesh from the stone. Discard the stone.
In a mixer jar, combine the chopped raw mango, drained mustard seeds, chillies, sugar, and salt. Blend to get a fine puree.
Pour the oil into this paste and pulse a couple of times until you get a creamy sauce.
Transfer this to a clean dry glass jar. Close loosely with a lid and allow to sit on the counter for a couple of days for it to ferment slightly. Close the lid tightly and refrigerate. This will easily stay for 2-3 weeks.
Main Course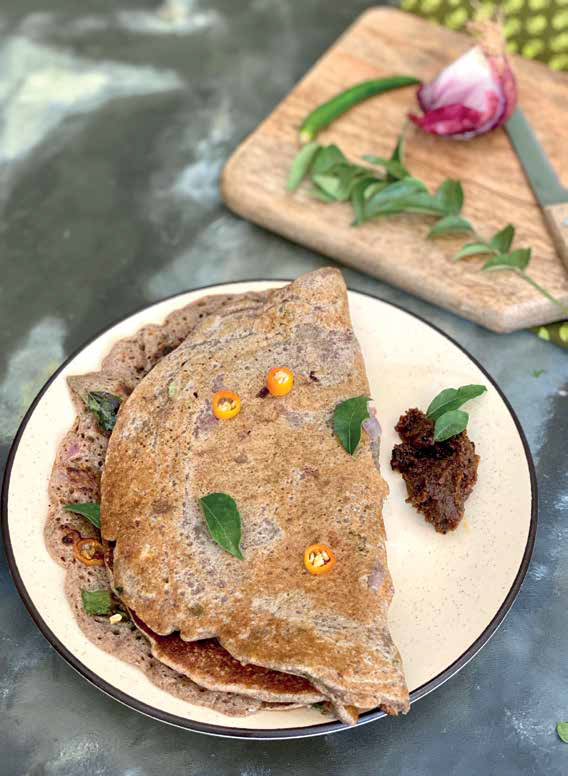 Jolada Dosa
Sorghum Dosa
Prep time: 14 hours, including fermenting time;
Cooking time: 20 minutes | Serves 4
I ate jolada dosa for the first time at Malabar Restaurant, an eatery started in 1944 in Balapet, Bengaluru. It was one of their specials and available only on one day of the week. A hot selling item, if you went in later in the day, they would run out of this batter and the dish would no longer be available. Sadly, the eatery shut down in 2013 after being in the business for 79 years.
Ingredients
½ cup (100 g) black gram (skinned split urad dal)
1 tbsp fenugreek seeds
½ cup (35 g) flattened rice
¼ cup (60 g) yoghurt
1 cup (135 g) sorghum flour
1½ tsp salt
To prepare a dosa
1 small onion, chopped
2 tbsp chopped coriander
1 green chilli, chopped
¼ tsp chopped ginger
5-6 curry leaves, chopped
Pinch of ground turmeric (optional)
1-2 tsp oil
Method
Wash and soak the black gram along with fenugreek seeds for 3-4 hours.
Soak the poha in half cup water and yoghurt for 30 minutes.
In a blender jar, take the drained soaked lentils and the soaked poha. Add in the sorghum flour and blend to get a smooth paste, adding some of the soaking water if required. The consistency should be like pancake batter. Remove the batter to a bowl. Mix in the salt with your hands. Cover and keep aside for 6-10 hours until the batter is well fermented (almost doubled in volume and lots of air bubbles when you scoop the batter with a ladle).
At this point, you can either refrigerate the batter or prepare the dosas.
A flat cast iron or non-stick griddle is required for making the dosas.
For each dosa, use around 1/3 cup batter. Add the chopped onion, coriander, chillies, ginger, and curry leaves. Stir well and pour over a lightly greased hot griddle. Drizzle oil around the edges and allow to cook for 2-3 minutes over medium heat until golden on the underside. Flip over and cook for another 2-3 minutes. Serve hot with tomato thokku.
Sweets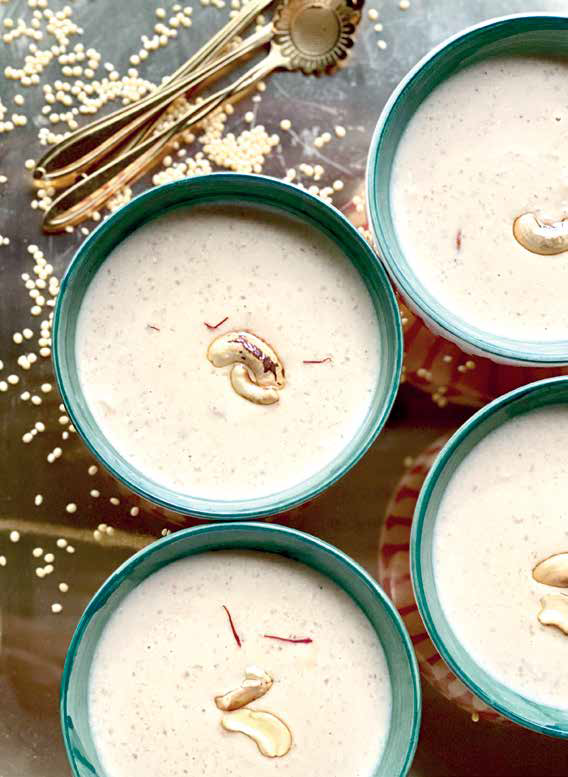 Thinai Payasam
Foxtail Millet Pudding
Prep time: 1-2 hours; Cooking time: 1 hour | Serves 4-6
Millet is an ancient grain with different varieties grown all over India. There is a resurgence of millets all over the country due to growing awareness of their health benefits. Millets are not just used in place of rice to eat with cooked lentils or curries, but also to make desserts. Millet doesn't turn as mushy and creamy as rice, giving the kheer a unique texture. I find that the foxtail millet variety is best suited to kheers.

Ingredients
¼ cup (50 g) foxtail millet (kangni)
1 litre full cream milk
½ cup (100 g) raw cane sugar
Pinch of saffron strands
Method
Wash and soak the millet in a bowl of water for 1-2 hours. Drain and keep aside.
In a pressure cooker (electronic or stovetop), add the milk, sugar, and soaked millet.
In an electronic pressure cooker, set the menu to Pressure Cooking → High Pressure → 40 minutes. Once the time is up and the pressure lowers, open the lid, add the saffron strands, and put it back in the pressure cook setting for 10 minutes.
In the stove top pressure cooker, combine
ingredients and allow to come to full pressure over high heat. Reduce the heat and keep for 30-40 minutes on lowest heat. Once the pressure lowers, open the lid, add the saffron strands, and put it back in the pressure cook setting for 10 minutes. Make sure this pressure cooker has a heavy
bottom or a long period of pressure cooking could burn the milk.
Millet payasam is ready to be served hot or cold.
• Fry 1-2 tablespoons of cashews and raisins in 2 tablespoons of ghee for an optional garnish.